Name:
GYXTC8S Outdoor Fiber Optic Cable
Model NO.
GYXTC8S
Product Description
GYXTC8S Outdoor Fiber Optic Cable
CROSS SECTION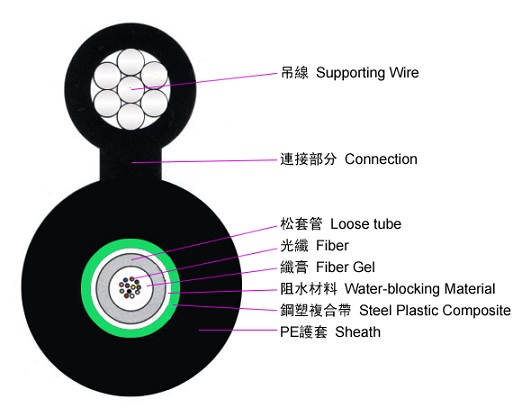 APPLICATION:
1.Laying method: Self-supporting Aerial
2.Suitable for long-distance communication, local trunk line, CATV & computer networks system.
3.Fiber type: Single-mode/Multimode
CHARACTERISTICS:
1.Low dispersion and attenuation.
2.PSP enhances the cable crush resistance, impact resistance and moisture-proof.
3.Proper design, precise control for fiber excess length and distinct stranding process render the cable excellent mechanical and enviromental properties.
4.The armoring of steel wire and corrugate steel tape make cable have nice properties of moisture resistance and crush resistance
5.Compact structure and lightness, flexible and good bend-resistant performance.
FIBER CHARACTERISTIC:
Fiber style

Unit

SM G652D

MM 50/125

MM 62.5/125

MM OM3-300

Condition

nm

1310/1550

850/1300

850/1300

850/1300

Attenuation

dB/km

0.36/0.23

3.0/1.0

3.0/1.0

3.0/1.0

Dispersion

1550nm

Ps (nm ·km)

≤18

-----

-----

Dispersion

1625nm

Ps (nm ·km)

≤22

-----

-----

Bandwidth

850nm

MHZ ·.km

-----

≥400

≥160

Bandwidth

1300nm

MHZ. ·km

-----

≥800

≥500

Zero dispersion wavelength

nm

≥1302 ,≤1322

------

------

≥1295 ,≤1320

Zero dispersion slope

nm

≤0.091

------

------

≤0.11

PMD Maximum Individual Fibre

um

≤0.2

------

------

------

PMD Design Link Value

Ps/(nm2*km)

≤0.08

------

------

------

Fibre cutoff wavelength λc

nm

≥1180 ,≤1330

------

------

------

Cable cutoff wavelengthλcc

nm

≤1260

-------

-------

-------

Mode field diameter(MFD)

1310nm

um

9.2±0.4

------

-------

-------

1550nm

um

10.4±0.8

------

-------

-------

Numerical Aperture(NA)

-----

0.200±0.015

0.275±0.015

0.200±0.015

Step(mean of bidirectional measurement)

dB

≤0.05

≤0. 10

≤0. 10

≤0. 10

Irregularities over fibre length and point discontinuity

dB

≤0.05

≤0. 10

≤0. 10

≤0. 10

Difference backscatter coefficient

dB/km

≤0.03

≤0. 08

≤0. 10

≤0. 08

Attenuation uniformity

dB/km

≤0.01

-----

------

-----

Core diameter

um

-----

50±1.0

62.5±2.5

50±1.0

Cladding diameter

um

125.0±0.1

125.0±0.1

125.0±0.1

125.0±0.1

Cladding non-circularity

%

≤1.0

≤1.0

≤1.0

≤1.0

Coating diameter

um

242±7

242±7

242±7

242±7

Coating/cladding concentricity error

um

≤12.0

≤12.0

≤12.0

≤12.0

Coating non-circularity

%

≤6.0

≤6.0

≤6.0

≤6.0

Core/cladding concentricity error

um

≤0.6

≤1.5

≤1.5

≤1.5

Curl(radius)

um

≤4

-----

-----

-----
TECHNICAL REQUIREMENTS:
Fiber Count

Cable Dia(mm)

Weight (kg/km)

Min.Bending Radius(mm)

Max Tension(N)

Crush Pressure (N/100mm)

Dynamic

Static

Short Term

Long Term

Short Term

Long Term

2~12

Cable:φ9.3mm Web:φ4.7mm

180

25×D

12.5×D

5000

2000

1000

300