How to connect an iPhone, iPad, or iPod Touch to your TV
How to connect an iPhone, iPad, or iPod Touch to your TV
Connecting your iPhone, iPad, or iPod Touch to your TV is simple, but you have to select the right cables first.
o
Editors' note: This post was updated on 7/16/2013 to reflect changes in newer iOS devices.
Until smart TVs get smarter and set-top boxes solve more problems, sometimes, the swiftest means to get media on your TV is directly via your phone or tablet.
It's not ideal for all cases, but if you've got home videos, photos, or even video-streaming apps you want to see on the big screen, you have a few options. The solution will depend on how new (or old) your device is, what video quality you're going for, and (as always) how much you're willing to spend.
Before you go out and buy whatever cable is compatible with your iDevice, take heed. Some solutions will surprise you with unexpected quirks worth knowing first.
AirPlay via Apple TV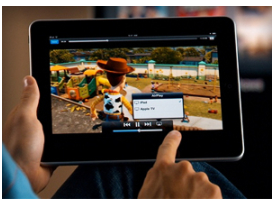 Because it's wireless and offers video-streaming extras, the Apple TV is the best solution. It's $99, and you'll most likely keep it in one spot, but freedom from fussing with cables make it the best choice. Plus, there's an awesome bonus for gamers.
With an Apple TV set up, photos, videos, music, and even some app content can be beamed to your TV from your iDevice with a few taps. And, with newer iDevices, you can even mirror your entire iDevice's display, giving you a big-screen view of everything happening on your phone. It all happens through Apple's coveted AirPlay feature.
And now more than ever, developers are adding AirPlay compatibility to their apps. To name a few, Vevo, TED, Hulu (Plus), and PBS all let you beam videos from the app to the Apple TV.
Some games are AirPlay compatible, too, letting you use your iDevice as a controller while you play the game on the big screen. At times, you'll notice lag, and video quality isn't perfect, butDucati Challenge and Metalstorm: Wingman are just a couple games worth trying out.
See more: Top 10 AirPlay-compatible apps
Not all AirPlay setups are created equal, however. First, mirroring is available only for the iPhone 4S (or later), iPad 2 (or later), iPad mini, or iPod touch (5th generation). All other devices will still be able to utilize AirPlay, but only for "beaming" specific content to the TV. So, you'll find the photos, music, or video you want to view, tap the AirPlay button, and it'll begin playing on your TV.
Check out this post for a complete guide to using AirPlay.
If beaming is all you're trying to achieve, life without mirroring won't be dreary. The only drawback is that you won't be able to view media from apps that don't support AirPlay. In that case, you might want to go with the Digital A/V Adapter.
Digital A/V Adapter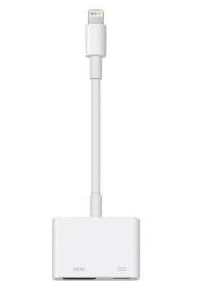 For a more portable, less-expensive solution, Apple's Digital A/V Adapter will do the trick. One end plugs into your iDevice, while the other attaches to an HDMI cable, and finally, into your TV (or receiver).
There are two versions of the A/V adapter, however -- one for Lightning devices, and one compatible with older devices using the 30-pin dock connector. Both essentially do the same thing, but the video quality is slightly different.
Once plugged in, the Lightning adapter -- compatible with the iPhone 5, iPad Mini, and iPad (4th gen) -- mirrors everything seen on your iDevice on your TV. Most times, it will be an exact reflection, but once in a while you'll notice that an app has been tweaked to work differently with mirroring. For example, Netflix will display a logo on the TV while you browse the catalog on your phone. Only when a movie or show is selected will it be mirrored on the TV.
Beware, though: after some testing and commentary from a purported Apple employee, Panic Blog discovered that the Lightning A/V adapter doesn't actually output a raw HDMI signal. Instead, chips inside the adapter compress the video signal before sending it off to your TV. That being said, video will look very good, but it will never be true 1080p.
For older iDevices, the answer is Apple's 30-pin digital A/V adapter. Here, however, compatibility and function isn't so cut-and-dried.
While iPhone 4S and iPad users will be able to mirror their screens like the Lightning adapter (see above), owners of older iDevices can only use the adapter to watch slideshows, onboard videos, and compatible video apps. Good for some purposes, but that completely rules out music and viewing apps that don't support video-out.
For older TVs, the composite cable
This cable doesn't do mirroring, but it will route video-enabled apps, photos, and music to your older TV. It's compatible with just about every device that uses the old dock connector, but don't expect HD resolution -- video maxes out at 480i.